Learn more about EATSS Event

Wednesday, June 15, 2022
5:30 PM – 8:30 PM
The Cable Center
2000 Buchtel Blvd S.
Denver, CO 80210
Thank you for joining us for the experience of a lifetime at our Denver EATSS event. For one night only, nationally acclaimed Native American chefs prepared uniquely modern takes on indigenous dishes, providing you with a rare glimpse into the rich culinary histories of Native tribes across the country. Thank you for celebrating America's original cuisine and the revitalization of Native American food.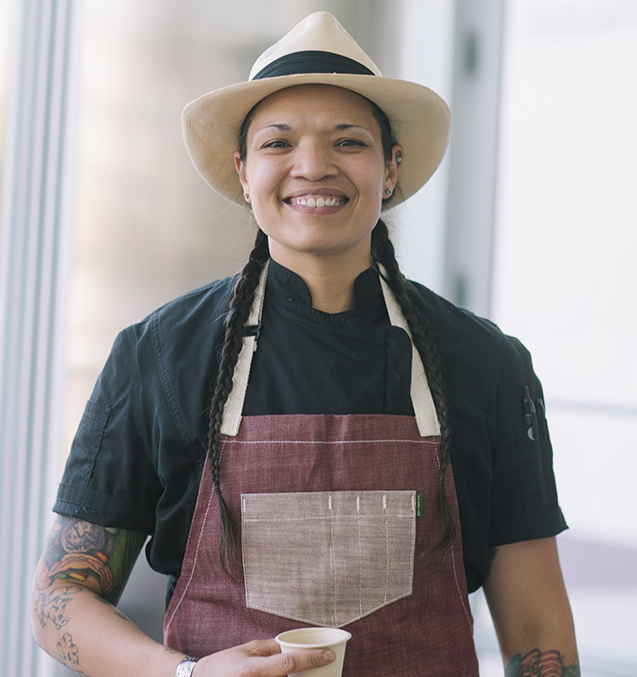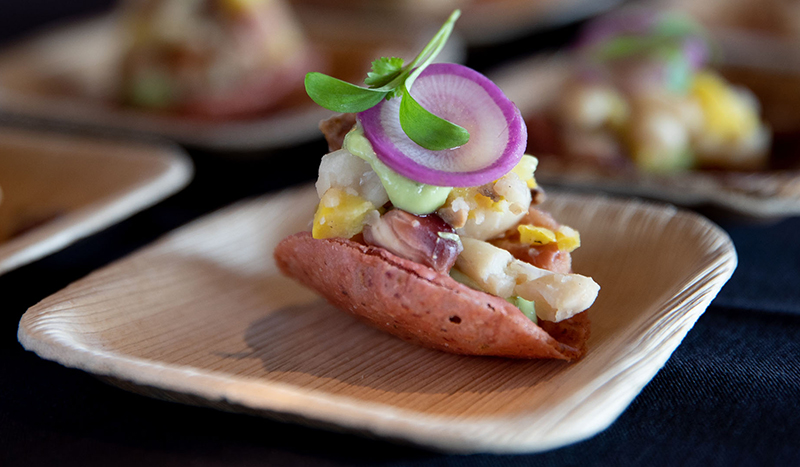 CHEF ANDREA MURDOCH
Chef Andrea (Andean Native; Caracas, Venezuela) is the owner of Four Directions Cuisine, which is founded on four main pillars: sourcing locally, sourcing Indigenously, education and community work. Murdoch is using food to trace her own culture while educating the public about the expansive world of Indigenous food systems. After being classically trained as a pastry chef at The Culinary Institute of America, Murdoch started exploring Indigenous flavors and origins which she shares through cultural conversations in the form of food.
CHEF FREDDIE BITSOIE
Chef Freddie (Diné) is the owner of FJBits Concepts, a firm that specializes in Native American foodways. In addition to being considered one of the leading Native food educators in the country, he is also the former Executive Chef of The Mitsitam Native Foods Café, and his first cookbook, New Native Kitchens, is a 2021 best-seller. Originally a student of anthropology and archeology, Chef Bitsoie was drawn to food during an archeology course when studying the people from Chaco Canyon and what they ate. Freddie's realistic (and delicious!) perspective is that it is better to center on indigenous ingredients instead of ever-evolving food trends.
CHEF M. KARLOS BACA
Chef M. Karlos (Tewa/Diné/Nuchu) is an Indigenous Food Activist from the Southern Ute Nation. He is the founder of Taste of Native Cuisine, created alongside the Southern Ute Cultural Center and Museum. Originally focused on traditional Indigenous Foodways in the community, Taste of Native Cuisine has grown over the last decade to include work with Tribal Nations across the country. Baca is also the founder of 4th World Farm, which focuses on pre-colonial foods and agricultural systems of the high desert region of the southwest, as well as co-founder of the Indigenous food activist group, the I-Collective (icollectiveinc.org).
CHEF BRADLEY DRY
Chef Bradley (Cherokee) has been a professional chef for twelve years, cooking traditional Cherokee dishes from healthy, local ingredients. Growing up in Oklahoma and based in Tulsa, his family inspired him to cook, as it was their tradition to cook together with everyone helping, under the guidance of his grandmother – which is where he learned most of what he knows about navigating a kitchen! Bradley's goal is to bring happiness and community to those who enjoy his heartfelt food – and he specializes in traveling to prepare food for special events and people, including PowWows, Folklorama and the cast and crew of Reservation Dogs. Ultimately Bradley hopes to one day own his own restaurant, which he will name Elisi, the Cherokee word for grandmother.
CHEF LORENCITA BILLIMAN
Chef Billiman (Diné) has a passion for Indigenous and ethnic cooking and is an American Culinary Federation certified Sous Chef with an AAS Degree in Culinary Arts from Navajo Technical University, where she is currently a Technical Instructor in Culinary Arts. Having been in the kitchen for 20+ years, Chef Billiman loves the food her mother cooked when she was little, and now does the same for her daughter, nieces, and nephews. Growing up she learned to cook from her grandmother, using an old wood stove, as they did not have electricity and running water. With a focus on Indigenous ingredients, Chef Billiman enjoys experimenting with French techniques and plate presentation, and shares, "Indigenous cuisine may seem far-fetched, but it's really the simplest ingredients we use, but made modern for today."
Featured Guests
Ben Jacobs of Tocabe
Culinary students from Navajo Technical University
And many more!