2022 SUMMER/FALL E-NEWSLETTER 
What Have We Learned and Where Do We Go From Here?
Greetings Friends and Relatives,
As I sit here thinking about what to share with you, I am both excited and a bit anxious about the new school year; and long for the days when the world seemed a little more predictable and a little less complicated.  I'm doing a lot of thinking about the things we learned during the height of the pandemic and what we want to carry forward now that the existence of COVID has become part of our normal.
I also think about this in the context of social change and whether the fire that was ignited around social inequities and diversity/inclusion will continue to burn with the same intensity among all the current issues we are trying to address – like inflation, continued supply chain interruptions, workforce shrinkage, significant market fluctuations, etc.
And still, for the College Fund and our scholars, I know I must stay focused and resist all the distractions that could interrupt me and prevent us from purposefully advancing the areas we know are the strongest pathways to create a better future for our students and communities – and I find myself relentlessly pursuing answers to the following questions:
1. What have we learned that will help us better serve students to ensure we continue to increase retention and graduation rates and how can we use those learnings to create a stronger network of options for student learning and support?
2. Even though things have settled down a bit in the COVID space, we seem to have become even more of a "crisis culture" which has impacted the mental health of so many people. How do we respond to that and keep our students and communities not only physically healthy, but mentally healthy as well?
3. How do we keep the fire burning around social inequities and diversity/inclusion so we remain empowered to continue challenging the status quo in meaningful ways?
Our greatest learning from COVID is that our students have ALWAYS needed more support than we've been able to provide.  During the pandemic when we received an influx of emergency aid funding for food, housing, technology, mentoring and coaching support, and mental health resources – and were able to provide that additional support for students – we saw notable increases in persistence and retention rates.  And now, more than two years later, we have also seen a significant increase in graduation rates as we've committed to continuing those extra supports!  Remarkably, 67% of College Fund scholars are graduating, compared to the national average of 60% among all students attending public institutions.

The past few years have been really challenging for students as they've adjusted to online education while experiencing devastating losses in their families due to COVID. 

Graduation rates have also been influenced by our ability to broaden and strengthen our 1:1 and small-group support of students through more contact and stronger relationships with them. This allows us to quickly respond to an individual student's challenge or obstacle, reducing the temptation of dropping or stopping out when life circumstances become overwhelming AND inspiring students to remain focused on their studies. Again, we're committed to sustaining, if not growing, this extra support now that we know the positive impact it has on not only persistence and graduation rates, but students' lives.
The past few years have been really challenging for students as they've adjusted to online education while experiencing devastating losses in their families due to COVID.  To support students through their grief, we, in partnership with the Tribal Colleges and Universities, have increased resources available for students who are struggling with maintaining their mental health. And again, the increases in retention and graduation rates demonstrate that these resources make a difference and must be continued.
And last, but certainly not least, we simply must continue dedicating resources to keep the obstacles, challenges and needs of not only our scholars, but Native communities in general, at the forefront of people's minds and conversations.  For too many decades Native people have been excluded from conversations about human rights and the importance of diverse thought and representation – diminishing both historical and current contributions of Native people – limiting our ability to fulfill our greatest potential as people and nations.
In the recent past, these are the areas where your contributions have made the biggest difference, and you can feel confident that we will stay focused while we continue this work. You may remember several years ago we pledged to do everything in our power to increase the percentage of American Indians with college degrees, which at that time was less than 12%. Today, due in part to College Fund scholars' stellar graduation rate of 67%, the number of American Indians with college degrees has grown to 15.4%. It fills my heart to see all our new college graduates working in their communities and affirms for me the life-changing difference we make when we all work together.
Pilamayayapi (thank you) for your support and friendship,
Cheryl

67% of College Fund scholars are graduating, compared to the national average of 60% among all students attending public institutions.

When asked what makes staying in college possible, College Fund scholars list family support, financial aid, and mentoring and coaching among their top needs.

More than 76% of College Fund scholars report that their one-on-one coaching is helpful to their success

A 2021 poll found that 45 percent of Native Americans had increased mental health challenges during the pandemic
COLLEGE FUND SCHOLAR TORI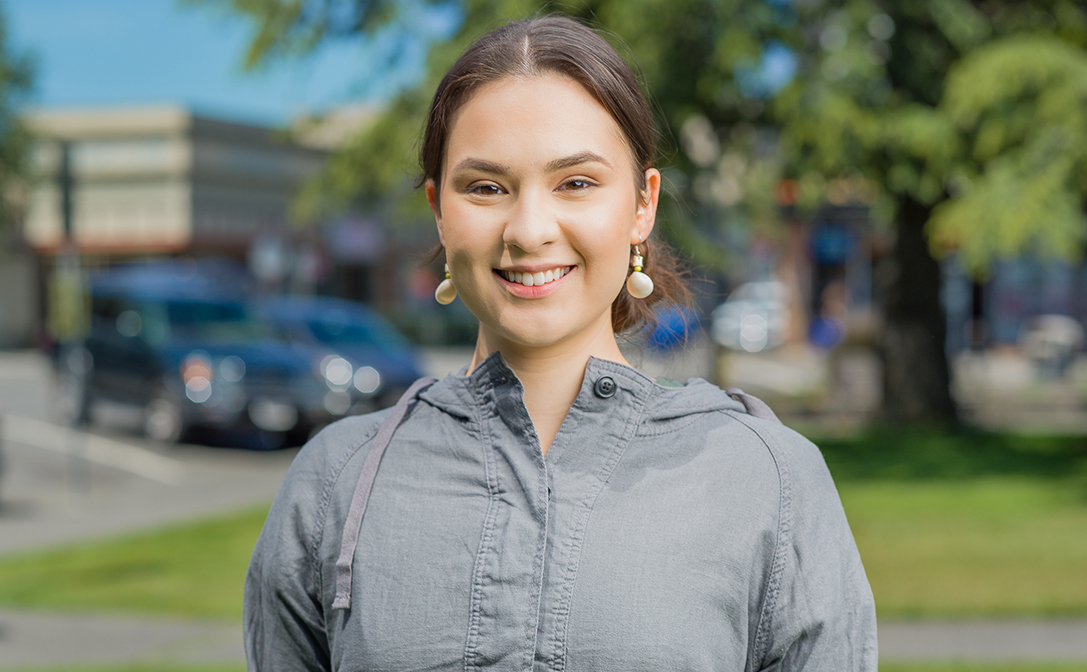 Finding and Healing the Genuine Me
Although I spent the first several years of my college career studying Environmental Science and graduated with a degree in Tribal Studies, I started down a new path late last year.  Like so many other people, the pandemic changed everything for me. The needs of my family and community changed, the way I looked at my life changed, and my goals for the future changed.
While I was participating in a language immersion program, I had the chance to deepen my understanding of what it means to me to connect to my ancestors and our ways of being and knowing. I have spent time exploring and bringing myself closer to family and ancestors. I have reflected on the three grandparents I have who went to boarding schools. Much like me, their proximity to our traditional ways was stripped from them. I had never seen it that way before, but there is so much about our experience of forced assimilation to a life distant from what our ancestors knew that is similar. And a lot of my reflection has been on how I can heal from that, which is something I don't think they ever fully had the chance to do.
I realize there are ways of weaving indigenous identity into every part of life instead of just assimilating to any one part of who I am: sustainability, subsistence, art – they can all serve as ways of authentically being me and healing and growing and creativity can help all of us heal from inter-generational trauma. Right now, I am using art, which has for centuries been both aesthetic and survival-based, to represent the traditional and modern me. I have the opportunity to do more than just survive and I can use ancient ways of being to more fully be me as I move through this life. Saying that now and believing in my future gives me so much hope for all Native peoples! 
This November, Join us for Indige-Bration!

Indigenous People's Day and Native American Heritage Month are just around the corner and as part of our call to friends and allies, we ask you to join us in celebration!
This November we are thrilled to hold our second annual Native American Heritage Month concert – Indige-Bration. Last year this one-of-a-kind, virtual concert featured more than 20 guests including world class musical artists and inspiring friends of the College Fund. Visit www.collegefund.org/concert to see the growing list of performers and to reserve your spot today!
We are also looking forward to another Native American Heritage Month and all that means to us as Native peoples seeing our past, present and future explored and celebrated by friends and allies. We have overcome unimaginable odds and the legacy of our survival and hope for the future are reasons to celebrate. Click here to see the updated resources, tools, and recommendations as you celebrate with us.
And as always, connect with us on Facebook, Instagram, and Twitter so you don't miss news of upcoming events, updates from students, and additional ways to Stand with Native Students!
The Tribal College Blanket Design Contest
Has a Winner!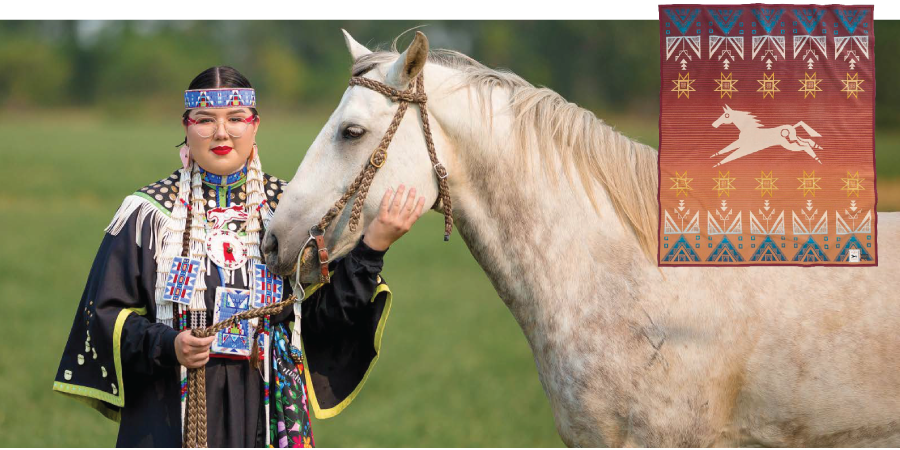 Congratulations to the second winner of the Tribal College Blanket Design Contest, Chelysa!
Chelysa is a College Fund scholar, student at Fort Peck Community College, and member of the Fort Peck Assiniboine and Dakota Sioux/Pasqua First Nations Cree Nations. Her winning blanket design, titled 'Unity' is a beautiful representation of the connection between Native peoples and nature, and a deeply personal reflection of her family and culture: the border is Lakota-style geometric tipis, the squares represent the people of the village, morning stars represent those still seen as the sun rises, the Holy Dog or horse indicates strength and unity, the lightning on the horse is a sign of speed and agility, and the circle around the horse's eye demonstrates strong vision.
Chelysa uses art to share her personal teachings, beliefs, stories, and visions.
"The College Fund has helped me a lot and Pendleton is one of my favorite brands. They work with the artist to get as close to our vision as possible. I'm living the dream at such a young age because I have always wanted to be a graphic artist. This just adds to my art journey, which is a good feeling. I am so thankful for this opportunity."
Visit Pendleton's website to see the full collection of blankets that benefit the College Fund and scholars like Chelysa!